Laney's Fashionista 5k
Men and Women, Boys and Girls… Come bring your funky fashionista flare!
Each year we host a 5k event in West Reading in honor and memory of not only Laney, but all of the fighters and families battling pediatric cancer. The course is centered around the Reading Hospital and runs through parts of the Reading Museum and side-streets throughout West Reading.
We encourage people to dress up in bright, color outfits in memory of Delaney's super fun and fashionable character. There is also face painting, snacks, and other fun activities for the whole family at Laney's Annual 5k Fashionista.
Celebrity shout-out.
The late, Joan Rivers well wishes for Laney's 2nd annual 5K 2014 …. 
Date
Date – Spring, April 26, 2020
Time
Race Day Registration & Packet Pick-up – 7:30am- 8:30am
Race starts promptly at 9am
Ticket Options
Pricing – $25 registration fee if registered by April 4th (with guarenteed tee). $35 after April 4th (no guarenteed tee).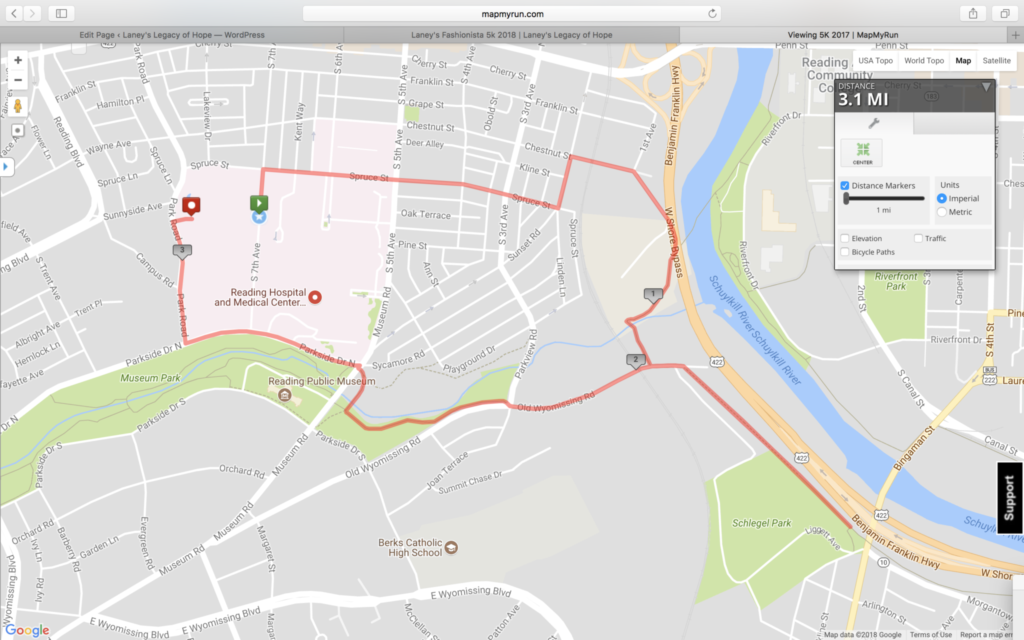 Get Involved
Want to participate in our Fashionista 5k or sponsor our event?
Click the buttons below to get involved!
Mail-in Registration Form
Want to participate in our Fashionista 5k by mailing in your registration?
Click the buttons below to get involved!
Benefiting Kids with Cancer
For more race details and to register, download the Laney's Fashionista 5k Registration Form.
Awards
Race awards and Best Dressed awards will be given out following the race at 10:30 am.
Post Party Information
The post-party will be located at the Masonic Lodge parking lot from 9:00 AM – 11:00 PM. Enjoy our DJ, food, drinks, games, and more!
Click here to download Laney's Fashionista 5k Flyer
Frequently Asked Questions
Q: If I am registering multiply different runners online does payment have to be made separately?
A: Yes, each registration form done online needs the liability portion of the registration read and signed by each individual runner. Therefore separate payments will need to be made for each runner if you choose to pay online.
Q: Are strollers permitted?
A: The course has some areas that become narrow with gravel and other areas of loose terrain. Stroller are not recommended on this course but are not prohibited. If you use a stroller you will be responsible for any accommodations that need to be made on course to safely navigate the stroller. Laney's Legacy of Hope will not be held liable for any issue that arise if strollers are brought on course.
Q: Can I walk?
A: YES! The last 2 races we had a large amount of walkers so you will be in good company.
Q: Is there a shorter course or kids course?
A: No. Unfortunately due to the area we will be running in and traffic control, we will not be doing any shorter courses.
Q: Can I just buy a race day shirt without registering?
A: Not at this time. You must register by April 4th to be guaranteed a race shirt. Following that they will be on sale race day but your size may not be available. So register by the 4th of April to guarantee your shirt.
Q: Will the event be canceled if it rains? And will our registration fees be refunded if we don't attend due to rain?
A: No & No. This event will happen rain or shine. Of course we are always hoping for sun but in the event it rains we will make the best of it and continue to raise money for a children battling cancer.
Q: Who is timing the race?
A: Pretzel City Sports
Q: Where will the times be posted?
A: On Pretzel City Sports website following the race.
Q: What age group is required to register?
A: Any child that is physically walking/running during the 5K will be required to have a parent sign a waiver and register. All children under the age of 10 will get their very own bid, certificate of participation (regardless of time), T-shirt (if registered by appropriate date), and swag bag.
Gallery from Previous Events